FREE EXCERPTS
Non-fiction Books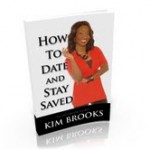 How To Date and Stay Saved by Kim Brooks 
Free Excerpt from Introduction
A contemporary gospel artist, Canton Jones, penned a hit song entitled, "Stay Saved."  It's about the daily encounters Christians may face which challenge their flesh and sometimes make them wanna slap somebody!  However, the point of the song is when presented with those kinds of "opportunities" instead of yielding to the flesh, continue in the Spirit and stay saved, which may mean walking in love, or simply walking away.
As a believer, once you're saved and receive Jesus Christ as your personal Lord and Savior, the one thing that is evident is that you have a heart for God.  You have a desire to know God, otherwise you would not have accepted His invitation of salvation.  It's kinda like when you're getting married to someone, if you don't meet the groom at the altar, it may be a good indication that you don't really love him and simply want to have nothing to do with him.  The same thing goes with God.
Many of us, myself included, got saved by meeting God at the altar, in the form of a salvation invitation presented by a pastor or a man or woman of God.  So your heart is there.  You want to do right.  You want to receive God's love, and be all the man or woman God called you to be.  However you may not know how a Christian is to operate when it comes to dating and relating with the opposite sex.  It's not like you're handed a dating instruction manual once you get saved.
For the past five years I have ministered across the country on how to be victorious, content, abstinent and drama-free single believers.  One of my most popular workshops is on sex and dating.  I also minister each month via email in my e-Newsletter, The Single Heart, which encourages, inspires, informs and edifies thousands of single believers and is is subscribable, for free, on my website www.DateandStaySaved.com  What I've discovered in my travels and from talking to and receiving emails from countless single saints is that many want to do right by God and be abstinent, but just don't know how to do it.  One person asked me, "How do I remain abstinent when my hormones are raging!"  That question, to me, is very honest, and very real.  Just because you're saved doesn't mean your desire for sex automatically goes away.
After hearing the cries of countless singles I decided to take most of the material I use in my workshops, along with additional revelation the Lord has given me through His Word and practical application, and placed it in this book.  I have poured my heart and soul into this book, and even tell on myself and share my own personal business with the sincere desire that you receive the Word, apply the Word, and be changed for the rest of your life.
No longer do you have to struggle as a single believer, feeling "less saved"  because you want to "get it on" like Marvin Gaye; instead you'll learn how to date and stay saved, and how to allow God to keep you from here on out until your wedding day.
To order this autographed book through this secured website Click Here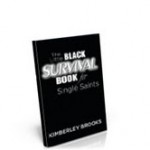 The Little Black Survival Book for Single Saints
by Kim Brooks
Free Excerpt from Chapter 1 – Loneliness -
"Lord, everybody is 'booed' up but me!"
Feelings of loneliness, for a lot of single Christians, come in spurts. When you're
out with friends and family, you're cool. When you're at church in deep worship,
you receive enough strength to go on and feel that Jesus is all the Man you need.
Then you get home, and by the end of the night, you may feel lonely.
You may turn on the T.V. and watch a romantic comedy and find yourself crying
so hard because you wish what happened to the main character happened to you.
You may go shopping or to a concert and see so many couples holding hands and
being "booed up" that you feel alone. It may be the holiday season, and you find
yourself quickly turning the radio dial as soon as "What Do the Lonely Do at Christmas,"
or "Christmas Just Ain't Christmas Without the One You Love," comes on. Or it may be
Valentine's Day, and you wish someone would buy you one of those huge pink and
white teddy bears on the store shelf.  Instead, you settle for looking forward to the
box of chocolates from your father, or the Valentine's Day card from your mother or
grandmother, if that.
It is not a sin to feel lonely. The key is to seek God about your feelings, and allow Him
to remind you that with Him, you are never alone.
Let your conversation be without covetousness; and be content with such things as
ye have: for he hath said, I WILL NEVER LEAVE THEE, NOR FORSAKE THEE.
(Hebrews 13:5) . . .
*Break bondage feelings of loneliness, impatience, insecurity, sexual temptations,
jealousy, and lack of forgiveness with this Little Black Survival Book for Single Saints -
Click Here to purchase this book online through this secured website.
******************************************
Novels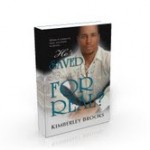 He's Saved…But is He For Real?
by Kim Brooks
*sequel to Black Expressions Bestseller, He's Fine…But is He Saved?
Free Excerpt from Chapter 1 – Oh, No, He Didn't!
"Are you for real?" I asked Sandy while on my cell as I lay sprawled out on
brown couch in my one-bedroom apartment in downtown Detroit.
"Yes, girl," Sandy replied while lying upright in her white canopy bed with
pink sheets, adjacent to her grandmother Madear's bedroom.
"You mean to tell me Pierre called off the wedding?" I asked.
I could not believe it.
I couldn't believe that the first saved man I dated for eight months, fell in
love with, then was dumped by so he could be with the wonderful "Miss
Erika" called off the wedding.  Erika Richmond, Minister Richmond's
daughter, was supposedly the most virtuous prize in the church.
"Uh-huh," Sandy said as a matter of fact.
"Who told you?"
I had to ask.
Knowing Sandy, this could be just some rumor. Or maybe a nightmare
I needed to be awakened from.
"Madear's hairdresser's cousin's best friend, Lajaneequa, told me," Sandy
assured me.
I held the phone in utter shock as I thought about how I'd fallen in love
with this man and couldn't understand why he left me that day almost two
years ago seemingly out of the blue, until I found out that he had already
started going out with Erika around the same time he was going out with me.
I thought he broke up with me because I refused to give him some but then
later found out that it was because he'd already had his sights set elsewhere.
Man.
I was looking forward to the day I finally got Pierre's two-timing,
wanting-to-have-his-cake-and-eat-it-too self out of my thoughts and life
forever.
I was looking forward to the day he pledged his "till death do us part" to
Erika and I even thought about attending the wedding. Erika, whom I
used to serve with in the youth department at our church some years ago,
did send me an invitation in the mail.  I was looking forward to their wedding
as the final closure that I needed to finally get my mind totally off Mr. Pierre
Dupree. Oh, well, I guess that won't be happening anytime soon.
Random Excerpts from Random Chapters:
Michelle
Pierre used his free hand to shush my lips. "Shhh," he said, "Don't say another
word, Michelle Williamson."
I couldn't do anything but just stare at him. It was like he had me in a trance.
With that, he added, "I'm willing to fight for you, girl."
Liz
. . . Liz noticed that all of the patient prayer seekers were women – women
who knew very well that Minister Matthew Long was an unmarried minister.
Sandy
"I'd rather burn in hell with my man than go through the rest of my life all
alone!"
Michelle
I was waiting to hear something – anything ; I needed a Word from God.
Madear
"Sandy, chile, if you walk out of that door right now, don't plan on coming
back!"
Liz
"You got so many people going around saying they're saved just because it's
the, quote-unquote,  'in-thing' to be right now. You gotta be careful out here."
Liz
". . . I can't take any more of this foolishness. Michelle, girl, let's go! I'm about
to lose my religion up in here, these folks is driving me crazy!"
Want to read more?  Receive your very own copy today!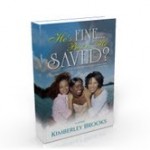 He's Fine…But is He Saved?
by Kim Brooks
Black Expressions Bestselling Chrisian Fiction Novel
Free Excerpt from Chapter 1 – Flirting!
"He fiiiiiiine," Sandy sang across the restaurant table and ran her tiny,
cream-colored hand through her short black tresses. She was referring
to some stranger seated at the bar.
Sandy, Liz, and I were enjoying Sunday brunch on a chilly afternoon in
April at one of Detroit's finest restaurants downtown. The soothing jazz
sounds coming from the black baby grand increased my enjoyment as
I swayed with the music.
We single ladies are celebrating the fact that we're "big girls now."
We're all in our early-to-late twenties, graduated from different colleges,
and have fairly decent jobs.  We can afford to splurge once in a while.
I snapped back into the reality of Sandy's comment and looked around
to make sure no one else heard her remark.
"Who fine?" I asked and then looked back down at my jambalaya.
I tell you.
Sandy can be so obvious at times.
One day I'm going to teach her young, twenty-three-year-old self how to do
things with class, or at least learn how to use codes so that the whole restaurant
doesn't know we're checking a brotha out.
"What man are you talking about now?" retorted Liz. Liz is twenty-seven, two
years older than I am.
She has never approved of Sandy's flirtatious ways.
I watched Liz play with her house salad. Her meal selection is a result of her
trying to lose weight. In the past three months, Liz went from a size ten to a
size sixteen.  I believe a lot of her weight gain has to do with having to put up
with her single mother's wild antics at home.
Next to praying, Liz's favorite thing to do when something is bothering her
is eat.  However, she still looks good with her flawless caramel-colored skin
and shoulder length, black micro-zillions that are half braided, half loose.
Liz and I have always had lunch together after church. Then four months
ago, the Lord reunited Sandy and me, former high school classmates, one
day at the grocery store.
We exchanged numbers, and I invited her to church. That following Sunday,
dressed in four inch heels and a short and tight jean dress with rhinestones,
Sandy responded to the altar call. I walked down the aisle with her and she,
in tears, got saved.
I haven't been able to get rid of Sandy since that day.
Now the Lord has given me a spiritual assignment to be her spiritual guide
and friend.
I don't mind too much, I guess, even though sometimes I do have to remind
Liz, my best friend of five years now, that Sandy is still young in the Lord.
Sandy's behavior can be quite unpredictable at times, especially when it comes
to her interactions with the opposite sex.
"Him, at the bar," Sandy whispered loudly while pointing toward the bar with
her fork.  I peeked at the bar section and saw an older white gentleman wearing a
hideous toupee, an older black woman wearing a tight red dress holding a glass
of mimosa, and a black man who looked to be in his late twenties.
He was dark-skinned with a bald head, had thick juicy lips, and enough
muscles to make Tyrese look bad. The black muscle shirt he wore proved he was
built, and his tan pants hugged his thighs.
I must admit, the brotha was fine.
As Sandy kept flirting with him with her dark brown eyes, the man responded
by looking over at her with hungry eyes of his own and a sexy smile.
"Give me a break," Liz said after sneaking a glance at the man and then
snapping her neck. "You just got out of church not even an hour ago, and
here you are flirting with some man. Ghetto."
Click Here For Our Online Store