ABOUT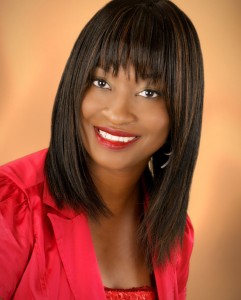 Award-winning author, licensed minister, national speaker and songwriter, Kim Brooks, of Detroit, MI is the Black Expressions Bestselling Author of,He's Fine…But is He Saved?, its highly acclaimed sequel, He's Saved…But is He For Real?, non-fiction debut, The Little Black Survival Book for Single Saints, and her newest release, How To Date and Stay Saved. 
A licensed minister since 2007, she's also an English graduate of Michigan State University.
An abstinence until marriage advocate, which is not only her speaking platform but also her testimony as she's a virgin in her thirties who is saving herself for her husband, Kim has been featured in Gospel Today, JET, The Detroit News, and has appeared as a guest on The Word Network, and numerous times on Totally Christian Television, and Christian Television Network. She is also the 2011 recipient of The Promotion of Abstinence Award presented by American Clergy Leadership Conference founded by Pastor Yonggi Cho.

Kim's ministry and message is spread throughout her books, blogs, songs, articles and poems and has been heard on airwaves nationwide including Rhythm and Praise with Pastor Marvin L. Winans, Strong Inspirations with Dr. Deborah Smith Pollard, The Praise Party with Ace Alexander, Rejoice Musical Soulfood, and many others.
As the President of Driven Enterprises, LLC and founder of Kim Brooks Ministries International headquartered in her hometown of Detroit, she has been a contributing singles columnist for Gospel Today and Hope for Women Magazine.
Kim also publishes an eNewsletter for single men and women entitled,The Single Heart, which ministers to thousands globally each month, and a free online daily devotional exclusively for single women.
With a high energy, down-to-earth approach while uniquely blending practical wisdom with God's Word, Kim Brooks' powerful message, which brings hope and healing to the nation, is that it is possible to live an exciting, uncompromising, drama-free, purpose-driven, Spirit-led, victorious life in the perfect will of God!
View Media Promo and Ministry Snippets

"The Sister you've always wanted The Business woman you need. Ms. Kim is truth in motion." -Andrea Newsome, Breakthrough Magazine
"Kim has so much vision, purpose she is mission-driven to market the Message and preach the WORD. She engages and enlightens all those she meets. Her books are life-changing and media people love her! She was my first fiction client, and the most delightful – because her media savvy is so natural because she is mission-motivated and purpose-driven! A real joy!"  -Pam Perry, PR Consultant
"Kim Brooks is an excellent motivational speaker and author. If you want to book her for your event or special engagement, don't hesitate. You won't regret it. She is creative, intuitive, and most of all, loves God with her whole heart. The books written by Kim are for those who are single and those who simply desire to be made whole." -Aisha Sturkey
"Kim's ministry to singles is sprinkled with a blend of the unadulterated Word of God, realism, humor and love. If you plan to hear her minister, then prepare to be changed!"
-Tia McCollors, Essence Bestselling Author of inspirational novels, The Last Woman Standing, and The Truth about Love
"This is a book that will grab your attention, challenge your motives, and move you to reach for the expectations of God in finding the right relationship." –Pastor Louis Smith, author of bestseller, Sexual Sins of the Bible, on He's Fine…But is He Saved?
Click Here For Our Store